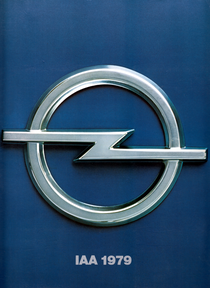 Na da werden die Jungs von GM und Vauxhall aber gestaunt haben... Für die IAA 1979 wurde die Presse Information auch von Deutsch ins Englische übersetzt.
Es wäre vielleicht sinnvoll gewesen, die Übersetzung vor der Veröffentlichung mal nach England oder Detroit zu senden. Das ist aber wohl nie geschehen. Es wimmelt nur so von "Denglisch".
Herrliche 1:1 Übersetzungen erinnern an "you are heavy on the woodway" (Du bist schwer auf dem Holzweg) oder "equal goes it loose" (gleich geht es los).
Das muss Otto bei seinem "English for Runaways" inspiriert haben ;-)

Prepared for the Eighties:
The Opel Model Program
The Opel passenger car program of today, thanks to its broad diversity, can not only be considered as exemplary, but - after the presentation of the Senator/Monza and the new Kadett - also occupies a special position in regard to homogeneity. In addition, the Opel automobiles presently fit especially well into the con­temporary scene:  in their respective classes, they are undoubtedly, among the most economical vehicles.
All vehicles from the Rüsselsheim automobile manufacturer are traditionally distinguished by their functionally attractive lines, efficient use of interior space, traffic-oriented performance level, excellent handling, comfort, safe and low-effort operation, a high degree of safety, and of course through their extraordinary economy of operation and thriftiness in fuel consumption.
The models included in the broad spectrum of this product program however, also fulfill further exacting requirements. Foremost among these, is a commensurate price, favorable operating costs, and built-in serviceability. The calculation of the body structure, using the "finite element" method - borrowed from space technology -increases the durability. In addition, extensive corrosion pro­tection measures contribute significantly toward value retention, and thereby assure good resale value.
The sum of these details adds up to a significant factor for the benefit of the customer. Long service life, economy of operation, low fuel consumption, and serviceability, were planning objectives right from the initial drafting board stage, which are realized in all vehicles of the complete model offering. The customer can choose the vehicle adequate for him, which is specifically tailored to his requirements and expectations.
Besides the other well-balanced favorable characteristics of all Opel models, the equipment level of the vehicles has also con­tributed to the front-rank position of the Rüsselsheim firm not only in the registration statistics of the Federal Republic of Germany, but also in other European countries. And of course also the excellently graduated model palette itself, which leaves practically no buyer wish open: from the versatile Kadett, right up to the luxurious top-of-the-line Senator and Monza models.
Opel Kadett: New with Transverse Engine and Front-Wheel Drive
The new Kadett brings new vigor into its class. Not only does it have an attractive exterior, it also offers exemplary roominess, good comfort, great driving safety, and traffic-oriented perfor­mance. Nevertheless, the new Kadett is an economical car to operate, which will now increasingly appeal to the youthful car buyer.
All Kadett models - whether sedan or station wagon - are distin­guished by their efficient use of interior space. The aerodynamically-perfected body made it possible to improve the drag coefficient by no less than 15 per cent, thus saving fuel. The interior offers greater space than has been customary up to now in this class. This improvement was achieved, although the Kadett is now 13 centi­meters shorter.
The available luggage space will probably seldom be fully utilized by Kadett owners, no matter which model they choose. The decklid version offers 410 liters of stowage volume, while the hatchback model holds a respectable 390 liters. When the rear seatback is down, a load space of almost one cubic meter results  (980 liters); measured to the upper edge of the front seatback, it is already 710 liters.
Those for whom this load capacity is still insufficient, will find the Caravan to be the absolute largest representative of its class. With a maximum capacity of 1425 liters,  it even compares favorably with vehicles in the next higher class  (all dimensions according to German VDA standards).
For the chassis, Opel decided in favor of front-wheel drive, which saves space in relatively small vehicles. Good comfort is provided by the new one on all road surfaces, the road-holding is safe and sure, and the handling reminds one of the predecessor model, which was exemplary in this respect. The steering effort required remains low. These advantages were achieved by using a MacPherson strut front suspension precisely tuned to a compound crank rear su­spension, which uses the miniblock springs familiar from the Senator and Monza.
According to temperament, Kadett buyers can choose from among three different engines. The basic power plant is the 1.2 N-engine, generating 39 kW (53 hp), and used in the previous Kadett. Com­pletely new are the 1.3 liter engines, which provide 44 kW  (60 hp) and 55 kW  (75 hp)  respectively. Both 1300 cc engines represent the most modern status of engine technology. The most important details: aluminum cylinder head, designed according to the cross-flow prin­ciple for better charge distribution; overhead camshaft for freer revving;  five-bearing crankshaft with four counterweights for smooth running.  In addition, the hydraulic valve adjusters are unique in this class; they eliminate the need for adjustment of valve clear­ance for the entire service life of the engine. A new type of cylinder head gasket also makes the 1000 kilometer inspection superfluous.
Just as with the engines, there is also a choice among three equipment levels. The basic version already includes floor car­peting throughout. Those who desire more luxurious surroundings, will find their demands met by the luxury version - and finally, the Berlina version again occupies the number one position. For buyers with sporty ambitions, Opel also has the Kadett SR with corresponding accessories available.
There are many new features in the 1979 Kadett - it is comfortable, traffic-oriented, spirited, and safe to drive. Above all, it has plenty of room - so that big families, which previously had to choose larger automobiles, now have a new dimension in econo­mical motoring open to them.
Opel Kadett Caravan; The Largest in its Class
An excellent space offering, great economy of operation, and much comfort in a tastefully-furnished interior, charac­terize the new Kadett Caravan from Opel, which is thus not only attractive for leisure-time and vacation use, but also predestines it for commercial applications.
Although its predecessor already had the reputation of being an automobile with great load space, the new model outdoes it by one whole class. With maximum utilization of the stowage room,  it accommodates 1425 liters. This is 304 liters, or a good 27 per cent more. An almost identical relationship results from a comparison of cargo space when measured up to the upper edge of the front seatback, where the new one with 785 liters, compared with 620 liters, clearly leads.
When the rear seatback remains in the vertical position, a 440 Liter stowage volume is still available - a very interesting point for families with children and for vacation trips.   (All specifications according to German VDA standards). With these favorable interior dimensions, combined with ex­terior compactness, the Kadett Caravan could even cut a good figure if it belonged to the next higher vehicle class. The new one can carry up to 500 kilograms in payload (480 in the five-door version).
The new Kadett Caravan offers two equipment and body varia­tions, which can be combined with each other. Thus, it be­comes clear that Opel's market researchers have accurately diagnosed the trend toward universal leisure-time- and family-sedans in the "small-car" class - to which this Opel only be­longs with regard to its favorable purchase price and operating costs.
Three power plants are available. The proven 1.2 liter N-engine, the newly-developed 1.3 liter N-engine and, as the top engine, the likewise fully-new 1.3 liter S. With it the station-wagon achieves a top speed of 158 km/h and accelerates from 0 to 100 km/h in only 14.5 seconds.
With the new Kadett Caravan, Opel's already traditionally strong position in the station wagon sector should grow even stronger.
Opel Ascona; A Family Car with Driving Comfort
The Ascona features a functional design of well-balanced proportions, a low slung belt-line and generous glass areas permitting excellent panoramic visibility. A windshield of laminated glass is available on request at no extra charge. The clean design of the body, with no chrome trim, is the re­sult of long test-series in the wind tunnel. Further characteristics are the wide doors for easy access, particularly for rear seat passengers.
The elegant and tastefully furnished passenger com­partment ensures a pleasant atmosphere - even the standard version features floor carpeting - and there is also sufficient leg room for rear-seat passengers. The wide seats are made of foam with excellent cushioning and the back rests assure good support even when taking curves at high speed.
The wide range of adjustment of the front seats, which feature automatic seat belts in all versions as standard equipment, enables drivers of any height and size to find the seating position most convenient to them. Easily readable and completely glare-free instruments are directly in the driver's field of vision behind the easy-to-grip steering wheel.
The front shock absorbers are mounted vertically close to the wheels on top of the upper control arms. This technical refinement benefits not only the road holding and driving comfort, but also frees the stabilizer, which is standard equipment, from wheel control functions. Long spring travel and suitably adjusted shock absorbers ensure a high degree of driving comfort.
Computer-calculated energy-absorbing zones in the front and rear - tested in numerous crash tests -protect passengers inside the sturdy passenger com­partment. For safety reasons, the 50 liter fuel tank is placed above the rear axle.
The Ascona is offered as a two-door and as a four-door sedan; there is a standard, and a deLuxe version; in addition, there is the especially luxuriously equipped Berlina. All versions can also be equipped with two SR-packages: while one of these options emphasizes the sporty looks of the Ascona, and includes extensive extra instrumentation, the SR-chassis package includes a firmer suspension and a more direct steering ratio. Both packages can be delivered separately, or in combination.
There is a wide range of economical and powerful four-cylinder engines available for the Ascona. They extend, depending upon the customers' wishes, from 1.3 to 2.0 liter displacement, and from 44 kW (60 DIN-hp)  to 74 kW  (100 DIN-hp). The new 1.3 liter N-engine, producing 44 kW (60 DIN-hp)  is especially economical.
Opel Ascona 2.0 Diesel: The Sensible One
The Opel Ascona, which is already offered to buyers with a choice of six carburetor power plants whose performance values range from 44 to 74 kW (55 to 100 DIN-hp), is now also available with a diesel engine.
This new,  43 kW (58 DIN-hp),  2,0 liter engine structurally corresponds to the diesel power plant already so well proven in the Rekord. It has been further refined in regard to quiet operation and economy. Thus the Ascona Diesel accelerates from zero to 100 km/h in 21 seconds, a respectable value for the diesel class, while achieving a top speed of 137 km/h, yet it is satisfied with a fuel consumption of 8.7, 6.4, and 9.2 liters of diesel oil respectively. Further advantages include a short pre-warming period, and the fact that this engine may be started with its ignition key only.
The Ascona 2.0 D is delivered with Standard, deLuxe or Berlina trim, just like the carburetor version, and comes with two or four doors, depending on customer wishes. In addition, there is a long list of optional equipment, up to and including a comfortable automatic transmission,  so that this Ascona can be matched to the most varied customer wishes.
In view of its lively performance, its economy, and a high load capacity of 440 kg, this Ascona 2.0 D enjoys great interest above all, in export markets such as Italy and France, where the purchase and operating con­ditions for a diesel automobile are far more favorable than in the Federal Republic.
Opel Manta: A Sporty Coupe for the Family
Owning a fast sports coupe is no longer the privilege of people with well-filled wallets, or those without a family. The new Manta fully measures up to the con­cept of a coupe suitable for a family and vacation.
The low, sloping engine hood of modern design, and a rollover bar integrated into the body, are the characteristic features. A low belt line and generous glass areas accentuate the sporty, functional design.
The interior breathes colorful good taste. Those who like sporty driving will particularly appreciate the good support provided by the seats and back rests. In this respect, the newly developed full foam seats prove to be exemplary.
Neutral vehicle handling is one of the qualities that distinguish the Manta; even inexperienced drivers when confronted with unexpected situations will not have any serious driving problems. Due to its excellent handling and its accelerating power, the Manta possesses optimum prerequisites in the area of active safety. But also with respect to passive safety, Opel designers have given the coupe excellent characteristics: energy-absorbing zones in the front and in the rear, and a fuel tank placed above the rear axle provide a high degree of safety for passengers in the sturdy passenger compartment protected with a wide rollover bar.
The Manta is available in standard and deLuxe versions, or as Berlinetta, with particularly luxurious comfort. All three versions can be complemented by two SR-pack-ages: the SR-package featuring a special exterior paint design accentuating the sporty character of the car includes a variety of additional instruments and may be ordered separately or in combination with an SR-chassis equipment package including firmer suspension. The latter, if desired, can also be ordered separately.
Six different engines are available for the various Manta versions. Already with the 1.3 liter, 40 kW (60 DIN-hp) N-engine, the aerodynamically well-designed car attains a top speed of 150 km/h, while the top speed attained with the 2.0 liter fuel injection engine,  81 kW  (110 DIN-hp)  is 187 km/h. With engines starting at 1.6 liter, ease of operation can be substantially improved by the optionally available proven Opel automatic transmission.
Opel Manta CC: The Practical Sportsman
The number one among the popular and family-oriented German sports coupes - the Manta from Opel - will now with some certainty be able to more strongly expand its leading position on the registration hit parade. For some time ago, the Riisselsheimers expanded the Manta series by a body variation with rear hatch and variable interior. The Manta CC  (combi-coupe)  is pre­dominantly conceptualized for all those coupe enthusiasts whose hobbies or specific vocational activities require an especially large transport volume.
In its technology, the CC-version is identical with its siblings, produced since 1975.  Its special position results from the wide opening rear hatch, which offers a stowage capacity of 765 liters  (670 liters according to VDA), when the rear seatback is folded forward. But even when the rear of the interior is required for passenger transportation, this in no way precludes the carrying of a large amount of luggage: there are still 385 liters  (330 liters)  of stowage room available.
Like its notch-backed counterparts, the Manta CC is also distinguished by its good road-holding characte­ristics. It is deliverable in three equipment versions -Standard, deLuxe, and Berlinetta. Altogether, six power plants are available with displacements from 1.3 to 2.0 liters, and a performance scale which ranges from 44 to 81 kW (60 to 110 DIN-hp). While the 60 DIN-hp Manta CC attains a maximum speed of 150 km/h, the two-liter injection type even attains 187 km/h. The time for the spurt from 0 to 100 km/h reads just as respectably: only 10.5 seconds elapse for the accom­plishment of this sprint discipline, with the stron­gest motorization. The Manta CC has additional virtues which merge elegance and practical value.  It is not only the car for vocation and recreation, but counts among the particularly attractive offerings as second car for the more discriminating buyer.
Opel Manta GT/E: Dynamic Sportiness and Thoroughbred
Elegance
The heart of the GT/E is the 81 kW (110 DIN-hp) two liter E-engine, an injection power plant based on the proven 2 liter Opel four-cylinder engine, combined with the Bosch-L-Jetronic injection system. This engine ensures not only high performance but, due to the specific characteristics of the injection system, also guarantees economical fuel consumption, and, most notably, a low level of pollutants in the exhaust gas.
The exterior of the GT/E differs from the other Manta-versions in its specific paint design with black engine hood  (available in vehicle color if so desired), and by the almost total lack of chrome trim. In accordance with the driving performance of the GT/E, a large front spoiler reduces lift.
Particular attention was paid to the chassis of this high performance automobile. Firm springing and Bil-stein gas pressure shock absorbers as standard equip­ment ensure the proverbial excellent handling. Extra wide tires dimensioned at 185/70 R 13 84 H, mounted on wide six-inch sports rims are standard (optional equipment 195/70 R 13 88 H).
Functionalism dominates the interior. A sports steering wheel with metal spokes provides an unobstructed view of the instruments, ranging from tachometer to oil pressure gauge.
Opel Rekord: Contemporary Medium Class
With its compact exterior dimensions in view of the density of today's traffic, its large passenger com­partment, and its great economy of operation, the Rekord continues the traditional success of Opel in the upper medium price range.
As may immediately be surmised by looking at the wedge-shaped body of functional and elegant design, experience gained in wind tunnel tests helped sub­stantially in forming its shape. The result is above all a reduction in fuel consumption.
Inside the Rekord, there is generous space. The dri­ver has a "workplace" at his disposal which was con­ceived in accordance with anatomic and ergonomic con­siderations, and, regardless of size, she or he will find the ideal seating position in a cockpit with large,  glare-free instruments and logically arranged controls. The full foam seats are comfortable, and ease of entrance is facilitated by the wide door-opening angle, and high door cutouts.
The front axle is based on the MacPherson principle. Due to a layer of Teflon on the strut-piston and the piston rod guides, dampening and springing react very sensitively. This is a measure which not only benefits the driving safety but also the comfort. The five-link rear axle, purposefully further developed for the Re­kord, was conceived to correspond optimally to the size and the performance of the car, and assures long tire life, minimal maintenance requirements and safe hand­ling even in difficult situations. A turning circle diameter of only 10.8 meters and an effortless, re­circulating ball type steering permit easy and precise maneuvering and parking, even in heavy city traffic.
The broad engine program includes power plants from 4 4 to 81 kW  (60 to 110 DIN-hp). A new 81  kW  (110 DIN-hp) 2.0 liter E-engine  (injected version with Bosch-L-Jetronic)  provides the Rekord with performance normally expected only from six-cylinder engines; thus equipped, the car accelerates from 0 to 100 km/h within 12 seconds, top speed being 179 km/h.
Two further 2.0 liter engines produce 74 kW  (100 DIN-hp), or 66 kW (90 DIN-hp). The 1.9 liter N-engine producing 55 kW (75 DIN-hp)  is standard equipment. The 1.7 liter N-engine  (44 kW/60 DIN-hp)  is particularly economical, which is also true of the 4 kW (5 DIN-hp)  more power­ful 2.3 liter Diesel that has proven its worth for many years.
The Rekord is available as a two-door or four-door sedan, in standard, deLuxe, or in the gracious Berlina version.  If desired there is a sporty S-package at the buyers' disposal.
But already the standard version of the consumer-orien­ted concept is able to meet any comparison: adjustable head rests, a heated rear window and on request a laminated glass windshield are standard equipment at no additional cost.
Thus, the Rekord is still more the "tailor-made car" for everyone, above all for the particularly discrimi­nating and comfort-conscious buyer who wishes - whether professionally or privately - to grant himself all of the amenities presented by the most mobile of all means of transportation, based on a concept which will still be valid in the Eighties.
Opel Rekord Station Wagon: Leisure-Time Pleasure
A significant characteristic of its body is the size of the useable cargo space.  In the true sense of the word, the Rekord Caravan can swallow one of the bulkiest loads of any car in its class. It can accomodate up to 35 per cent larger rectangular loads than its pre­decessor which was manufactured until the summer of 1977. The total cargo area of the Rekord Caravan has a volume of up to 1638 liters. The cargo space now measures 1951 mm in length when the rear seatback is folded down, the width between the wheel housings is 1139 mm, and if measured above the wheel arches, the width even measures 1411 mm. The height is 759 mm. So that Rekord Caravan drivers can also transport heavy cargoes, the payload - contingent upon model -is up to 620 kg, and with special optional equipment, even up to 675 kg.
Occupant protection against unsecured cargo in case of a collision or emergency stop is provided by a well-proven safety net supplied ex factory  (which can easily intercept a crate weighing 25 kg in a 50 km/h crash test)  and by lateral force locks which prevent the rear seat back from breaking loose even in the event of a severe impact.
The Rekord Caravan is available with three or five doors in the standard version, or as a five door deLuxe version.
The same range of engines offered for the other ver­sions of the Rekord is also offered for the comfort­able, well-handling station wagon.
The 1.9 liter N-engine, 55 kW (75 DIN-hp) using regular gasoline is standard equipment; but, as an option, any of the following engines may be ordered: a 2.3 liter Diesel  (48 kW/65 DIN-hp), a 1.7 liter N-engine  (44 kW/ 60 DIN-hp), a 2.0 liter N-engine  (66 kW/90 DIN-hp), a 2.0 liter S-engine  (74 kW/100 DIN-hp), and a 2.0 liter injection engine.
The Rekord Caravan combines the comfort of a sedan with the advantages of maximum load capacity.
Opel Rekord 2.3 Diesel: The Economical One
Diesel fans looking for an automobile in the upper medium class will find the Rekord 2.3 D an even more interesting alternative than ever before.
Two pleasant facts become apparent immediately when starting:  simplicity of operation and its readiness to start. This engine is started with the ignition key only, and in addition, the pre-glowing phase has been reduced to a minimum.
The four-cylinder Opel diesel is a mature unit which has proven its worth for many years. It operates on the Ricardo Comet V swirl chamber system which ensures optimal mixture formation with uniform, complete com­bustion.
The excellent pulling power of this 48 kW (65 hp) engine is ensured by its favorable torque range.  Its maximum of 127 Nm is already generated at only 2500 revolu­tions. No less than 110 Nm remain available over almost the entire speed range, i.e. from 1200 to 4000 revo­lutions .
Performance figures prove that this Rekord 2.3 D is a truly lively automobile for its class. It accele­rates from 0 to 100 km/h in only 22 seconds and attains a top speed of 140 km/h. Fuel consumption remains modest: the Rekord 2.3 D settles for a con­sumption of only 8.6, 6.6, and 9.6 liters of diesel fuel respectively, for 100 km.
The Rekord 2.3 D is available as a Standard-, deLuxe-, or a Berlina-sedan with two or four doors, as a sta­tion wagon with three or five doors, as well as a five-door deLuxe station wagon.
Its marked economy promises the buyer - besides the typical advantages of a diesel power plant - the spatial economy of a functional body along with the comfort and safety of a contemporary automobile.
Opel Commodore: Moderately Priced Luxury Class
With an affordable purchase price, the elegant sedan from Riisselsheim offers a power plant of high maturity, driving performance commensurate with its class, ample comfort, and a driveability which need fear no comparison.
The body of the Commodore - which perfectly covers the sector between the Rekord and the Senator in the Opel palette - fits harmoniously into the Rüsselsheim line.
In regard to the engine, Opel implemented various signi­ficant refinements. Although the flexible 2.5 liter S power plant still has 85 kW (115 DIN-hp), the six-cylinder can hardly be recognized again. The markedly increased free-revving quality must be mentioned first of all; then, the even more sensitive reaction to gas pedal movements, and above all, the perceptible re­duction in fuel consumption. The smooth-running engine attains its rated performance at 5200 rpm; the maximum torque of 179 Nm is generated between 3800 and 4200 rpm -specifications which also provide good elasticity. Top speed is 180 km/h, and acceleration from 0 to 100 in 11.5 seconds. The fuel consumption is only 14.2, 8.7, and 11.2 liters of super gasoline.
With a new front axle built according to the Mac-Pherson strut principle, and with the further deve­lopment of the already proven intricately guided five-link rear axle, the Commodore achieves excellent road-holding qualities. With this form of rear-wheel suspension, Opel has today attained a standard which has become an international example for similar designs. Large-volume dampening elements contribute to additional comfort, and the standard equipment with stabilizers enhance the driving safety. As in the Senator and Monza, two hydraulic dampers on the engine mounting provide for optimal vibration charac­teristics in the vehicle's frontal area. Their diagonal positioning suppresses vertical as well as horizontal vibration.
The steering, functioning on the recirculating ball principle, is characterized by easy operation and good road contact. At 11.5 meters, the turning circle is parking-oriented, and favorable for its class. Gene­rously dimensioned discs on the front, and drums on the rear axle guarantee track-true and fade-free braking. Steel radial tires dimensioned at 175 R 14 88 H are standard, and if desired, extra-wide tires up to size 195/70 R 14 89 H can be optionally supplied.
The equipment of the Commodore, which is offered as a two or four-door sedan, corresponds to discriminating tastes. Selected luxury in addition to this is offered by the Berlina version, while the S-package underscores the sporty touch (both may be combined with each other). For very individual desires, there are optional accessories such as air conditioning, power windows, central door locking, and the proven Opel automatic transmission.
Comfort, luxury, and performance - equally combined with economy in purchasing and maintenance, are the plus points of the Commodore, which have enabled it to find a firm position among the most popular re­presentatives in the European offering of six-cylin­der sedans.
Opel Monza: New Class
The conception of the Opel Monza unites elegance, superior performance capability, comfort, and large, variable space offering in a balanced relationship. The excitement of a sports car, as well as the advan­tages of a sedan are incorporated in the Monza.
Its exterior pairs the elegance of clearly drawn lines without antiquated prestige symbols, with an aesthetic expression of functional technique. A second look reveals the wealth of fine qualities inherent in this body concept: good space offering and practicality, thanks to the diversified useful­ness of its interior.
The spatial offering in the Monza is exemplary. The Monza is the first coupe in its performance category to offer full seating comfort for adults in the rear as well. The variable luggage compart­ment holds between 425 and 765 liters  (according to German VDA standards:  350 and 746 liters).
Additional interior comfort is contributed by the fullfoam seats - combined in the front seats with extra spring support - and the low noise level. The suspension unites great comfort, and safe, prob­lem-free handling. The front telescoping struts, on the MacPherson principle, guarantee a smooth ride even on secondary roads.
In the further development of an independent rear wheel suspension with semi-trailing links, Opel engineers were successful in minimizing variations
in camber and toe-in with an ingenious control arm pivot layout. The results: self-steering tendency minimal in all situations, good-natured reactions even when accelerating or decelerating in curves, and minimal tire wear.
The "miniblock" springs of this rear axle are com­pletely new in automobile construction. They are so designated because of the variable diameter of the steel used in the coil and the barrel-shaped, double-conic design. This prevents any contact between the spring coils during driving, and hinders disturbing spring noises.
For motorization, three new six-cylinder engines with 3.0 and 2.8 liter displacement are available. The strongest three-liter power plant receives its fuel mixture from a Bosch-L-Jetronic injector, and gene­rates 132 kW (180 DIN hp)  at 5800 rpm. Speed data: maximum 215 km/h and acceleration from a standstill to 100 km/h in 8.5 seconds. With the 3.0 liter car­buretor engine 110 kW (150 DIN-hp), the Monza achieves equally noteworthy performance standards: acceleration to 100 km/h in 9.5 seconds, maximum speed 198 km/h. The specs for the Monza with the 2.8 liter carbure­tor engine are only slightly below this: acceleration from 0 to 100 km/h in 10 seconds, maximum speed 195 km/h.
In keeping with its position in the automobile market, the Monza has a wealth of standard equipment, which is supplemented with further comfort-details in the Monza C. For sports-minded drivers, the Monza and Monza C are also available with an S-package.
With the Monza, Opel not only took new paths in the technical sector, but also in the basic conception. For the first time, a discriminating coupe enthusiast can acquire an automobile which, besides offering superior handling characteristics and greater driving safety, also incorporates comfort and room for four adults - not to mention the variable luggage compart­ment. Finally, the elegance of its thoroughbred appearance likewise belongs among the ingredients for its success recipe.
Opel Senator: Great European
Buyers of distinctive six-cylinder sedans cannot com­plain of a dearth of choice in Europe: never before has there been such a wide range offered in this market sector. For while many alternative offerings reveal evidence of such priorities as comfort or driving performance, the large Opel attests to a balanced synthesis of comfort, performance, and spa­tial economy.
Its exterior is marked by a functional elegance, which is seldom found in an automobile designed according to uncompromising aerodynamic principles. The excellent aerodynamics of the Senator provide not only fuel economy - they also improve driving safety: the low aerodynamic lift of the body contri­butes to good road holding characteristics, even at high speeds, and sidewind stability.
A gracious atmosphere is dominant in the passenger compartment, thanks to harmoniously coordinated in­terior colors. Upon entering the vehicle, a gene­rously-dimensioned freedom of movement is experienced. Additional interior comfort is contributed by the fullfoam seats - combined in the front seats with extra spring support - and the low noise level.
The suspension unites great comfort and safe, prob­lem-free handling. The front telescoping struts, on the MacPherson principle, guarantee soft rolling action even on secondary roads. Two hydraulic dampeners on the engine mountings contribute to the favorable vibration characteristics of the vehicle's front end. In the further development of the inde­pendent rear wheel suspension with semi-trailing links, the Opel technicians were successful in keeping variations in camber and toe-in within narrow limits with an ingenious layout of the control arm pivot points. The results:  self-steering tendency minimal in all situations, good-natured Ferraria effect reac­tions in curves, and minimal tire wear.
The "miniblock" springs in this rear axle are com­pletely new in automobile construction. They are so designated because of the variable diameter of the steel used in the coil, and the barrel-shaped, double-conic design. This prevents any contact between the spring coils during driving.
For motorization, three six-cylinder engines with 3.0 and 2.8 liter displacement are available. The three-liter power plant with 132 kW  (180 DIN-hp), receives its fuel mixture from a Bosch-L-Jetronic injector, which assures optimal fuel utilization. Speed data: maximum 210 km/h, and acceleration from a standstill to 100 km/h in 9 seconds. With the 3.0 liter carburetor engine 110 kW/ 150 DIN-hp), the Senator achieves equally noteworthy performance standards: acceleration to 100 km/h in 10 seconds, maximum speed 193 km/h. The specs for the Senator with the 2.8 liter carburetor engine are only slightly below this: acceleration from 0 to 100 km/h in 10.5 seconds, maximum speed 190 km/h.
The equipment offered by the Senator is at an inter­national level. The Senator C, and above all, the Senator CD, provide special automotive luxury. Fea­tured in the CD's standard equipment are, among other items:  steering wheel height adjustment, inte­grated air-conditioning system, power windows, stereo cassette radio, heated seats for driver and front passenger, headlight wash/wipe units, and the 3.0 liter injection engine, coupled with the comfortable Opel automatic transmission. The Senator and Senator C can be combined with the sporty S-package.
With the Senator, Opel has pulled out way in front, not only in regard to technology, but also in the favor of many customers who seek a vehicle in the international top-notch class. Right from the start, the large Opel achieved an excellent position in its market segment.